We are a family owned and operated business located in Southern Arizona and Eastern Pennsylvania. We offer Custom Wagon Wheels, Wagons, Wood Buckets and Wood Butter Churns. All of our products are handcrafted from quality woods.
You will find our wagons, wagon wheels, and wagon wheel chandeliers in the movies, on the beach at resorts, in university theater groups, theme parks, at work in Central Park, on working wagons everywhere, our wagon wheels are even on Broadway in theaters.
Below are some of the products you will find at our Online store, click on an item for more information. Visit our Online store to view our complete line of products. To visit our store,

Click Here!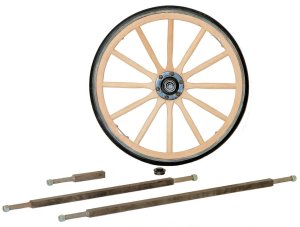 We can custom build any size or type of axle to custom fit your wheels and your project. No matter what size wheel or axle you need for your project, we can make your axles for you.
Our metal axles are made from solid square solid steel stock, machined on each end to match the wheel, the ends are threaded and shipped with nuts for the ends. For Axle Pricing, Please Contact Us..
Offering New custom built Wood Wagon Wheels and we Rebuild your old Wagon Wheels or Cannon Wheels. In addition to the many styles of Wheels we supply, we are happy to offer you a quote for your custom wagon wheels. We can also rebuild your Wagon Wheels or Cannon Wheels. Contact us to discuss your project. We rebuild Wood Hub Wheels, Archibald Wheels, Sarvin Wheels, Wanner Wheels, and many others. Contact us today!

Find manyCustom Wheels from 1 foot in diameter to 11 feet in diameter! We would love to assist in your restoration projects.